Find out what the team has been working on in Q3 2021, and how your payments experience is being enhanced.
The team has delivered many improvements during Q3, some in particular have been long awaited by our customers. From UX, the dashboard, DE processing and more - our customers asked and we've listened!
Dashboard - Refund Action
Sunsetting the original dashboard
Performance improvements
Webhooks enhancements
Hosted Fields
Direct Entry processing times brought forward
Cards decline error messages
Coming soon: Virtual Accounts Asynchronous APIs
Reminder: Sunset PromisePay.js
More info
Dashboard - Refund Action
The new dashboard now offers the ability to perform full and partial refunds. Customers with this capability enabled can perform refunds from directly within the dashboard, meaning the entire end-to-end payments workflow will run more efficiently from one convenient tool.

If your business is enabled to perform refunds, you'll now see this capability under the Items section of the dashboard. Simply click the 'Refund' button to kick start the process.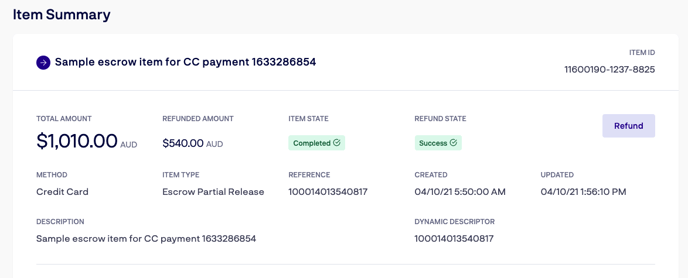 Find out more about the new dashboard.
Sunsetting the original dashboard
Now that refunds are enabled, this completes the transition of capabilities from the original dashboard (as well as some cool new features like Filters). As a result, the original dashboard will be sunset on 2 December 2021. All users need to have moved across to https://dashboard.hellozai.com/ by this time. Find out more.
Performance Improvements
Our team has been working around the clock to enhance API performance and payment processing capabilities. We've upgraded our entire database to ensure that performance is optimised and releases are seamless moving forward. While we've had some benefits to date, we can see there is still some work to be done, and this is a main focus during Q4. These enhancements come off the back of customer feedback, we're committed to continuing to provide world class services and remaining at the forefront of payments technology.

Subscribe to the status page to be kept up to date.
Webhooks search enhancements
The search capability has been improved with a new field in the webhooks jobs search, which lists all the jobs according to the underlying object ID. Now you can quickly search for webhooks of specific business objects eg: transactions, items, disbursements and batch_transactions, saving you time and effort.
Hosted Fields
Hosted Fields allow you to accept payments without handling sensitive customer information. With fully customisable and responsive fields, you can receive payments from card and bank accounts while remaining fully PCI compliant.

Specifically, Hosted Fields allows you to:
Customise the UI to suit your existing web styles and branding
Pass the hosting and handling of sensitive cardholder payment data to Zai
Create credit cards and bank accounts
Use a JavaScript file that is hosted by Zai to create an iFrame for each field
Hosted Fields forms part of our Hosted Solutions product, Hosted Form (previously Drop-In UI) being the alternate solution. You can access the Hosted Fields Integration Guide here.
Direct Entry processing times brought forward
The processing time for Zai's direct entry capabilities has been brought forward, meaning funds are settled sooner than previously, and the risk of processing failures are reduced.

Previously, batch transactions were processed and marked as successful after 3 business days at 1pm (Melbourne/Sydney timezone). Now, batch transactions are processed and marked as successful after 2 business days at 11:30pm (Melbourne/Sydney timezone).

Read more about the change.
Card related error codes
New HTTP error codes provide more visibility on the reason for card decline errors. Now, you can see:
The actual response code from the bank, not the provider, so you know the exact reason the bank has declined the card.
New HTTP Error Code 516 will be returned for generic processing issues on our provider's end.
Two new fields added to the HTTP 422 Error Code. The following will be returned as part of the <errors> message block:

<provider_response_message>
<provider_response_code> In here, there will be an additional 30+ decline codes including common industry codes such as 05 (do not honor), 51 (insufficient funds), 54 (expired card).
Cards Decline Error Messages
Card authorisation response codes provide insight into the reasoning behind a transactional outcome. Declined transactions produce unwanted consequences for all parties, so we've introduced two categories to help you to respond accordingly to the response code provided.

Understand the categories.
Coming soon: Virtual Accounts Asynchronous APIs
From 18 October 2021, Virtual accounts will soon be an asynchronous process. We're letting you know now so that you can jump into Pre-Live now to prepare your payment flows and set up a new webhook in order to be notified about the virtual account status.

Find out more about the new process.
Reminder: Switch from PromisePay.js by 12 November 2021
We've built newer, better models for handling card data, including the Hosted Solutions. As a result, our legacy card library, PromisePay.js will be sunset. We've been communicating with our PromisePay.js user base for a number of months now. As the deadline approaches, we're encouraging you to ensure you're prepared for the change.

Read about the options to switch to here.
Want more information?
Access additional details about the changes mentioned above: